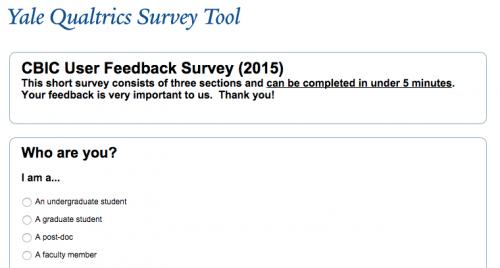 Monthly Newsletter for March 2015
User Feedback Survey Out Now!
If you haven't done so already, please take a few minutes to fill out our recent user feedback survey. Tell us how we're doing and how we can improve. This year's survey can be completed in less than 5 minutes. Use the link below to access the survey. We greatly value your input in bettering the CBIC.
https://yalesurvey.qualtrics.com/SE/?SID=SV_6xvozUeYanLppFH
Don't forget to share this link with other CBIC users. The more responses, the better!
CBIC Instrument Updates
NMR
Last month in order to solve the ongoing sample changer problems, we separated the spinners by color, replacing several darker spinners with lighter spinners which could be better detected by the unit's sensor. This greatly improved the problem with the A600a sample changer, and so we have implemented the solution with our other sample changers. Unfortunately, some of the lighter replacement spinners were apparently slightly wider in diameter and have occasionally gotten stuck in the magnets. We have since removed all these defective wider spinners from circulation and have not had this problem recur since. If, however, your sample does get stuck in a magnet, please report it to us immediately either in person or with our Report a Problem form. One issue with this solution is our current shortage of lighter colored spinners. We are working on a solution to this problem.
In other sample changer news, we can now--upon request--outfit the A800 NMR spectrometer with a sample changer that can load up to 12 samples. If you would like to use this sample changer, please get in touch with either Eric Paulson or Xiaoling Wu.
The A500b has been running for quite some time with a loaner probe from Agilent. The original probe is now back from repairs and has been installed. Shimming and calibration will run through the weekend. If all goes well, the instrument will be available early next week.
X-Ray
The 007-CCD is back up and running after much hard work and three separate service visits from Rigaku. The chi axis gears on the goniometer jammed and damaged a controller board. Rigaku sent replacement parts that were incompatible with our unit leading to confusion about true nature of the problem. These issue revealed that certain aspects of the instrument are more delicate than we previously thought. If you wish to use the 007-CCD, please contact Brandon Mercado before collecting any data.
Also, we have installed a new lower temperature cold stream on the SCXmini. It is now capable of collecting data at -180°C.
GC-MS
The GC-MS stopped producing data earlier this month. We replaced the inlet septum on the GC oven and tightened some of the unit's vacuum connections. The instrument is once again operational.
Recent Publications from Yale's Chemistry Department
The CBIC strives to support the research throughout Yale University. In that spirit, we would like to highlight recent publications from the Chemistry Department. Congratulations to all the authors! We look forward to serving your instrumentation needs in future manuscript preparations.
Toward safer multi-walled carbon nanotube design: Establishing a statistical model that relates surface charge and embryonic zebrafish mortality.
Gilbertson LM, Melnikov F, Wehmas LC, Anastas PT, Tanguay RL, Zimmerman JB.
Design, Synthesis, and Protein Crystallography of Biaryltriazoles as Potent Tautomerase Inhibitors of Macrophage Migration Inhibitory Factor
Pawel Dziedzic, José A. Cisneros, Michael J. Robertson, Alissa A. Hare, Nadia E. Danford, Richard H. G. Baxter, and William L. Jorgensen
Cation Effects on the Electron-Acceptor Side of Photosystem II
Sahr Khan, Jennifer S Sun, and Gary W. Brudvig
An Efficient Method for the Preparation of Styrene Derivatives via Rh(III)-Catalyzed Direct C–H Vinylation
Kate D. Otley and Jonathan A. Ellman
Characterization of functional groups on oxidized multi-wall carbon nanotubes by potentiometric titration
Zhiteng Zhang, Lisa Pfefferle, Gary L. Haller
Thermodynamics of Water Dimer Dissociation in the Primary Hydration Shell of the Iodide Ion with Temperature-Dependent Vibrational Predissociation Spectroscopy
Conrad T. Wolke, Fabian S. Menges, Niklas Tötsch, Olga Gorlova, Joseph A. Fournier, Gary H. Weddle, and Mark A. Johnson, Nadja Heine, Tim K. Esser, Harald Knorke, and Knut R. Asmis, Anne B. McCoy, Daniel J. Arismendi-Arrieta, Rita Prosmiti, and Francesco Paesani.
Understanding the ionic liquid [NC4111][NTf2] from individual building blocks: An IR-spectroscopic study
Kenny Hanke, Matin Kaufmann, Gerhard Schwaab, Martina Havenith, Conrad Wolke, Olga Gorlova, Mark A Johnson, Bishnu Prasad Kar, W Sander and Elsa Sanchez-Garcia
Comparison of the local binding motifs in the imidazolium-based ionic liquids [EMIM][BF4] and [EMMIM][BF4] through cryogenic ion vibrational predissociation spectroscopy: Unraveling the roles of anharmonicity and intermolecular interactions
Joseph A. Fournier, Conrad T. Wolke, Christopher J. Johnson, Anne B. McCoy and Mark A. Johnson
Complexity of Protein Energy Landscapes Studied by Solution NMR Relaxation Dispersion Experiments
Gennady Khirich and J. Patrick Loria
Structure Diversification of Vancomycin through Peptide-Catalyzed, Site-Selective Lipidation: A Catalysis-Based Approach To Combat Glycopeptide-Resistant Pathogens
Sabesan Yoganathan and Scott J. Miller
Condensation transition and forced unravelling of DNA-histone H1 toroids: a multi-state free energy landscape
A H Mack, D J Schlingman, R D Salinas, L Regan and S G J Mochrie
Fluorescence Correlation Spectroscopy Reveals Highly Efficient Cytosolic Delivery of Certain Penta-Arg Proteins and Stapled Peptides
Jonathan R. LaRochelle, Garrett B. Cobb, Angela Steinauer, Elizabeth Rhoades, and Alanna Schepartz
Structural basis for transcription reactivation by RapA
Bin Liu, Yuhong Zuoa, and Thomas A. Steitz
Rotamers of phenyl substituted 1,3-dioxanes and tetrahydropyrans: importance of CH⋯O Coulombic interactions
Kenneth B. Wiberg, Kyle M. Lambert, William F. Bailey
Updates
There are a number of ways you can stay updated about what is happening in the CBIC -- If you have any questions, you should always feel free to ask any of the CBIC staff, either in person or via email. If you are not on our email list, you can click here to subscribe. You can also visit us at cbic.yale.edu or follow us on Twitter @yalecbic.
Sincerely,
CBIC Staff