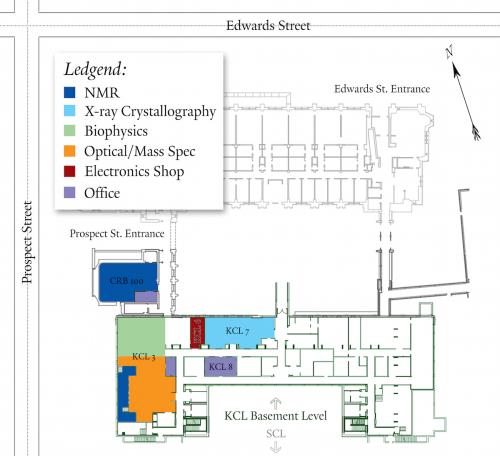 Monthly Newsletter for February 2015
CBIC Instrument Updates
The past two months we have resolved many issues with our instruments. Almost all of them are now in working order. And we are taking steps to solve the more persistent problems.
NMR
The move is over! All NMR magnets (including the Varian 600MHz (V600b) from the Med school campus) have been moved into the CBIC and now reside in either CRB 100 or KCL 3. The last two to be moved, V600B and V500wb are at field but not yet bookable. We will have these units available in the next two weeks. All other NMRs are fully operational and bookable. Use our NMR booking site as per usual.
Our automatic sample changers continue to cause us trouble. We are working to resolve the issue. Specifically regarding the A600a, we believe the issue is due to the color of the spinners used. The sample changer's sensor may not be detecting the darker colored spinners when they are ejected. For this reason, we have separated the spinners at the A600a workstation by color and asked our patrons to use only spinners we have designated on the A600a. One week in with this measure and no failures have occurred. Please continue to only use the designated spinners on the A600a as per the sign we have posted at the workstation. We remind all that if the sample changer does fail, please let us know in person or by filling out our report a problem form.
We have fitted our A500b station with a new cooling system that does not require liquid nitrogen. This allows for variable temperature experiments as low as -10°C. The unit can still run variable temperature experiments as high as 130°C. If you would like to use the new low temperature feature, please contact Eric Paulson or Xiaoling Wu to receive training on the new cooling system.
X-Ray
The 007-CCD remains out of commission. The Chi motor will not drive, which prevents the goniometer from properly initializing. The problem involves either the chi motor, goniometer board, or both. We are currently working with Rigaku to identify any other contributing factors in the failed initialization before permanent repairs are attempted. A Rigaku engineer is due to arrive this Monday February 2nd.
UV/VIS and IR
The computer running our UV/VIS unit suffered from a hard drive failure. A new computer has been set u, and the unit is function properly again. Our FTIR power supply failed. A replacement has been installed and the instrument is again operational.
New Website and Feedback Survey
Thanks to the efforts of our new work study hire, Raleigh Capozzalo, our site has been restructured and improved. Revisions go live this Wednesday morning. In the coming month, watch out for an important Feedback Survey. We would greatly appreciate your participation. The survey will assess the demand for new instrumentation and technical support, especially in the mass spectrometry field. Subcribe to our mailing list to ensure you get a copy of the survey when it comes out.
Recent Publications from Yale's Chemistry Department
The CBIC strives to support the research throughout Yale University. In that spirit, we would like to highlight recent publications from the Chemistry Department. Congratulations to all the authors! We look forward to serving your instrumentation needs in future manuscript preparations.
Facet-Dependent Photoelectrochemical Performance of TiO2 Nanostructures: An Experimental and Computational Study
Chuanhao Li, Christopher Koenigsmann, Wendu Ding, Benjamin Rudshteyn, Ke R. Yang, Kevin P. Regan, Steven J. Konezny, Victor S. Batista, Gary W. Brudvig, Charles A. Schmuttenmaer, and Jae-Hong Kim
Computational Insights on Crystal Structures of the Oxygen-Evolving Complex of Photosystem II with Either Ca2+ or Ca2+ Substituted by Sr2+
Leslie Vogt, Mehmed Z. Ertem, Rhitankar Pal, Gary W. Brudvig, and Victor S. Batista
Interfacial electron transfer in photoanodes based on phosphorus(V) porphyrin sensitizers co-deposited on SnO2 with the Ir(III)Cp* water oxidation precatalyst
Prashanth K. Poddutoori, Julianne M. Thomsen, Rebecca L. Milot, Stafford W. Sheehan, Christian F. A. Negre, Venkata K. R. Garapati, Charles A. Schmuttenmaer, Victor S. Batista, Gary W. Brudvig and Art van der Est
Oxygen-evolving complex of Photosystem II: an analysis of second-shell residues and hydrogen-bonding networks
Leslie Vogt, David J Vinyard, Sahr Khan, Gary W Brudvig
Proton-Coupled Electron Transfer During the S-State Transitions of the Oxygen-Evolving Complex of Photosystem II
Muhamed Amin, Leslie Vogt, Witold Szejgis, Serguei Vassiliev, Gary W. Brudvig, Doug Bruce, and M. R. Gunner
Insights into Substrate Binding to the Oxygen-Evolving Complex of Photosystem II from Ammonia Inhibition Studies
David J. Vinyard and Gary W. Brudvig
Deactivation in Homogeneous Transition Metal Catalysis: Causes, Avoidance, and Cure
Robert H. Crabtree
Methanol Dehydrogenation by Iridium N-Heterocyclic Carbene Complexes
Jesús Campos, Liam S. Sharninghausen, Michael G. Manas, and Robert H. Crabtree
Gut symbionts from distinct hosts exhibit genotoxic activity via divergent colibactin biosynthetic pathways.
Engel P, Vizcaino MI, Crawford JM
Synthesis of benzopentathiepin analogs and their evaluation as inhibitors of the phosphatase STEP
Tyler D. Baguley, Angus C. Nairn, Paul J. Lombroso, Jonathan A. Ellman
Cobalt(III)-Catalyzed Synthesis of Indazoles and Furans by C–H Bond Functionalization/Addition/Cyclization Cascades
Joshua R. Hummel and Jonathan A. Ellman
Kinetics of Thermal Activation of an Ultraviolet Cone Pigment
Victoria Mooney , Sivakumar Sekharan , Jian Liu , Ying Guo , Victor S. Batista, and Elsa C. Y. Yan
Effect of 2-Substituents on Allyl-Supported Precatalysts for the Suzuki–Miyaura Reaction: Relating Catalytic Efficiency to the Stability of Palladium(I) Bridging Allyl Dimers
Damian P. Hruszkewycz, Louise M. Guard, David Balcells, Nicola Feldman, Nilay Hazari, and Mats Tilset
Coevaporated Bisquaraine Inverted Solar Cells: Enhancement Due to Energy Transfer and Open Circuit Voltage Control
Tenghooi Goh, Jing-Shun Huang, Elizabeth A. Bielinski, Bennett A. Thompson, Stephanie Tomasulo, Minjoo L. Lee, Matthew Y. Sfeir, Nilay Hazari, and André D. Taylor
Multigram synthesis of 1-O-acetyl-3-O-(4-methoxybenzyl)-4-N-(9-fluorenylmethoxycarbonyl)-4-N-methyl-l-pyrrolosamine
Matthew Burk, Nolan Wilson, Seth B. Herzon
Nickel Complexes for Robust Light-Driven and Electrocatalytic Hydrogen Production from Water
Amit Das, Zhiji Han, William W. Brennessel, Patrick L. Holland, and Richard Eisenberg
Determination of partial molar volumes from free energy perturbation theory
Jonah Z. Vilseck, Julian Tirado-Rivesa and William L. Jorgensen
Regioselective Derivatizations of a Tribrominated Atropisomeric Benzamide Scaffold
Kimberly T. Barrett and Scott J. Miller
Temperature-dependent innate defense against the common cold virus limits viral replication at warm temperature in mouse airway cells.
Foxman EF, Storer JA, Fitzgerald ME, Wasik BR, Hou L, Zhao H, Turner PE, Pyle AM, Iwasaki A
Structure of the Pseudomonas aeruginosa transamidosome reveals unique aspects of bacterial tRNA-dependent asparagine biosynthesis.
Suzuki T, Nakamura A, Kato K, Söll D, Tanaka I, Sheppard K, Yao M.
Chemically Synthesized Molecules with the Targeting and Effector Functions of Antibodies
Patrick J. McEnaney, Kelly J. Fitzgerald, Andrew X. Zhang, Eugene F. Douglass , Jr., Weifang Shan, Aaron Balog, Mariya D. Kolesnikova §, and David A. Spiegel
Conformational Changes of Elongation Factor G on the Ribosome during tRNA Translocation
Jinzhong Lin, Matthieu G. Gagnon, David Bulkley, Thomas A. Steitz
Mycofumigation by the Volatile Organic Compound-Producing Fungus Muscodor albus Induces Bacterial Cell Death through DNA Damage.
Alpha CJ, Campos M, Jacobs-Wagner C, Strobel SA.
Proteins at Interfaces Probed by Chiral Vibrational Sum Frequency Generation Spectroscopy
Elsa C. Y. Yan, Zhuguang Wang, and Li Fu
Updates
There are a number of ways you can stay updated about what is happening in the CBIC -- If you have any questions, you should always feel free to ask any of the CBIC staff, either in person or via email. If you are not on our email list, you can click here to subscribe. You can also visit us at cbic.yale.edu or follow us on Twitter @yalecbic.
Sincerely,
CBIC Staff