Vnmrj fails occasionally. There are different causes:
1.  VnmrJ is hung up on some internal process.  Sometimes, a long band with alternative blue/white colors under the command line appears. 
Please exit Vnmrj:  go to  "File" -> "Exit Vnmrj". If Vnmrj is frozen, open a Linux terminal and type 'killall -9 java' and the Vnmrj will disappear. Then restart VnmrJ by double click the VnmrJ icon.
2. The communication between the console and the PC was interrupted.
To restore communication, open a Linux terminal, type 'su acqproc' and hit "return".
Open the door of the console and press the reset button of the right-most board on the console.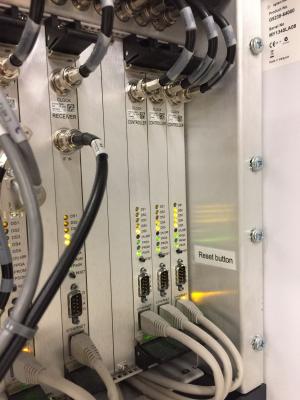 Wait a minute or two until the lights on the right-most board scroll up and down continuously. Type 'su acqproc' and hit "return" again, wait until "Idle" appears in the small window at the bottom of the VnmrJ frame.